Team - Petr Novotný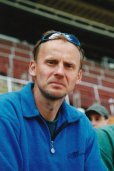 Petr Novotný
is a head coach of the athletics team of ASK Slavia Prague. Three of us has come from hist training group of 400m runners.
Many of the Czech top 400m and 400m hurdles athletes hav run through his hands.
So we asked Petr to help us with our training plans and so that is his main role in our project...
back