Team
Kick Your Life, Kick France 2013 project consists of four footbikers and four to five members of support team.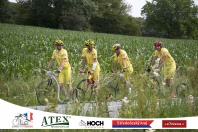 We met for the first time some 20 years ago when we were doing athletics for the colors of ASK Slavia Prague. We had been members of the nowadays legendary Slavia youth and junior athletics team (year of birth 81-83), that has won many titles of the Czech athletics team champion and has taken part in the European Cup of Nations. Most of us are still running or quitted athletics just few month ago ... check the biography.
In 1999, first of us bought a footbike – 12" wheeler Kbike from Mr. Petr Vavruša. From that time on (December 24th 1999) we started to write the history of phenomenal ULTIMA K.LAP TEAM. We have won many titles of the Czech Champion, many medals from the European and World Championships with three World Champion Titles in 2004 and 2008 for our team known throughout the scooter world simply as ULTIMA.
Two years ago we established footbike portal http://www.e-kolobezka.cz/ to support the footbike scene in Czech Republic and Europe.
For the biography of any of us just click the photo bellow.
Race team
We are convinced that finishing our project is not possible without a support team. If we want to kick whole distance of the Tour 2013, we should have just kicking in our minds and legs. All the other stuff should be in the hands of the supporters. Nowadays we plans to find 4-5 comrades, who would like to help us to kick all the distance till the Champs Elysées. We plan to come to France with a camper and support van.
We need the support team to be consisted of a physiotherapists, a cook, a photographer (cameraman) and two more helpers (drivers).
For the biography of our supporters just click photos bellow.
Support team