Footbikes
When we speak about our project, everybody ask us, what footbike we want to kick the Tour with. Almost for hundred percent we would go for the Kickbike Race MAX. In our point of view it is the best alluminum footbike around the world. Despite of that, this machine is normally available for anyone, who would like to kick. May be we would like to upgrade the basic verison of Race MAX with some top cycling components, carbon fork and wheels and others.
Anyway, any footbike would kick the whole Tour for us. First we need strong legs, never-ending breath and unbreakable will.
KICKBIKE RACE MAX
aluminum frame Kickbike MAX
front wheel 28"
rear wheel 20"
weight less then 8kg
MANFRÉD (Race MAX 20")
pilot: Honza Vlášek, nick by the legendary baron Manfredovi von Richthoffenovi
components: front fork carbon Specialized, front brake Campagnolo Centaur, rear brake Shimano XT, front wheel variation ofMAVIC Cosmic (tyre Continental 4000) Remerx ... (tubeless TUFO, hub Novatec) nor ZIPP, rear wheel 20" factory Alu Kickbike (tyre Schwalbe Durano), handelbars Pells, grips Ritchey, brake levers Shimano LX
engine: Nike
HERMANN (Race MAX 18")
pilot: Honza Vlášek (base camp machine), after 5500 height meters the nick comes from the first man on Nanga Parbat, Hermann Buhl
componentsí: front fork Pells carbon, wheels see Manfred, front brake Shimano Ultegra, rear brake Shimano XT, handelbars Ritchey, rest see Manfred
PANÍ RADOVÁ (Race MAX 20")
pilot: Vašek Liška
components: vidlice Specialized carbon, ...
engine:
SKIN (Race Max 20")
pilot: Michal Kulka
engine: front wheel Remerx ALCYON AL (ptyre Schwalbe Durano "Skin"),or ZIPP, rear wheel 20" Remerx Alcyon (nába Remerx 65mm), rest KCIKBIKE factory
engine: NIKE - LunarGlide, Fliknit, Free, Vomero, Flyknit Lunar
TOVÁRNA (Race Max 20")
pilot: Jarda Odvárka
components: see SKIN
engine:
THE FLYING DUTCHMAN (Sport MAX 18")
pilot: René Köning
components: will kick on a kickbike sport max. Out 2010 with 18"  rear wheel.
Frontfork a full carbon from Vision with a shimano Ultegra wheel.
Brake shimano 105 and levers also shimano.


ALPO
pilot: Alpo Kuusisto
components:
I'm riding Kickbike Race Max 20, adjusted to my measures and technique. Cruiser handlebars allow more upright ride position for more energy output. Bit worse aerodynamics are ok at our speeds. This machine weighs 7,2kg but is very stiff. Optimal (very low) footboard, solid control and ergonomy are favoured over light weight. Easy hydration and staying on right course are important too - so grips, bottle cage and smartphone holder fill the handlebars.
Rear mudguard keeps calfs and hamstrings drier and warmer on rainy days.
engine:
1) Stiff soled but low heeled shoes for flat and hilly stages. (Adizero LongJump shoes with rubber sole fitted instead of spikes)
2) Lighter and more flexible shoes for mountains. (Asics track sprint shoes with rubber sole fitted)
3) soft and slightly higher heeled shoes for days when feet are hurting. (Nike Mayfly minimalist running shoes)
4) sandals for evenings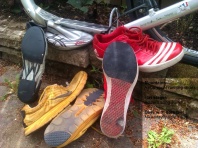 All kick shoes have been in use for one year to ensure there will be no problems with fit.
KICKBIKE HISTORY
If you ask about the history of Kickbike, you should have be answered that it comes from the garage of the first Kickbiker Hannu Vierikko. This Finnish athlete has redesigned a scooter to today´s design of big front and small rear wheel in mid eighties; he established his kickbike company and has remained with it till today. Despite the production has moved to Asia, design remain the same.
And how about riding this dragon? You should be kicking around 30km/h average when racing, longer trip you should absolve with some 25km/h average. We plan to kick the Tour with some 18-20km/h average.
For guys with needs of adrenaline, our team mate Jarda has ridden 98km/h in one of the Czech downhills – kicking could be pleasant enough:)
And here he is. Hannu
Vierikko, many time world, European and Finnish footbike champion himself.